Designboom with Tadao Ando
japanese architect Tadao Ando will receive the Andrée Putman Lifetime Achievement award given at the Créateurs Design Awards ceremony on January 21, 2023 at Shangri-La Paris, France. A self-taught architect known for his use of natural light and landscape and sparse forms, Ando has designed more than 300 architectural designs, including public buildings, religious structures, and museums. His approach to architecture touches on cohabitation, the contemporary and the essence of place, and it is emphasized in many of his designs, including his work for the stock exchange in Paris and Buddha Hill near Sapporo in Japan.
He notes France's cultural heritage in pursuit of ideas 'beyond the bounds of an era'as he puts it, citing the Eiffel Tower and Center Pompidou as examples. "I could feel its manifestation in the coexistence of tradition and modernity. Culture will remain the heart of France as long as we live in search of freedom: this is the message I want to pass on to new generations. It is a great honor to receive this award from Créateurs Design Association,' Ando said.
design boom interviewed the renowned architect before receiving the award to talk about what informs his design process and his vision for the emergence of artificial intelligence in the field of architecture. Regarding the latter, Ando conveys his enthusiasm for new technologies and their usefulness in modern times, but a hint of concern still worries the architect about the future of architecture created solely by data. For designboom, Tadao Ando reveals his points of view on the current architectural climate, the divergence of material and immaterial, and the places he would like to revisit.
image courtesy of the Creators Design Awards | header image courtesy of Bourse de Commerce – Pinault Collection, © Tadao Ando Architect & Associates, NeM / Niney et Marca Architectes, Agence Pierre – Antoine Gatier, & photo by Philippe Guignard Air Images
Interview with Tadao Ando
designboom (DB): How can architecture have a social role and bring us together?
Tadao Ando (TA): Architecture itself is just a box, but it can become a vehicle through which communities can engage and come together. Naoshima in Japan's Seto Inland Sea was an isolated island with an arid landscape devastated by the mining industry. Since 1987, I have designed nearly a dozen architectures in Naoshima. It has now become a major destination for art and culture, attracting visitors from all over the world.
Yet the most significant result has been the revitalization of existing communities. The influx of cultural activities and art installations has allowed residents to regain their island pride. Today, Naoshima is an island where art, nature and people come together and engage in cultural activities that give the place the power to grow.
DB: You are essentially a self-taught architect. Do you think design education today is very abstract and should be checked more empirically? Or is it too limited due to practicability and planning constraints and should it be more conceptual?
TA: I believe all students should get out more and travel to see buildings around the world. Life experience fuels inspiration and creativity.
DB: How do you see the new trend of artificial intelligence entering architectural planning?
TA: Although I am enthusiastic about new technologies and think they are useful in many cases, I am concerned about a future where architecture is created solely by the selective sorting of past data.
In addition to the functionality, economy and technology that make up a predetermined harmony in a building, the intervention of an architect brings a somewhat vague and contradictory shift with reality. It is these chances that make architecture unique and legitimize architects as a profession. An architect's physical experience, embodied memory, and bodily senses are more reliable than the vast accumulation of data or its processing speed in a computer.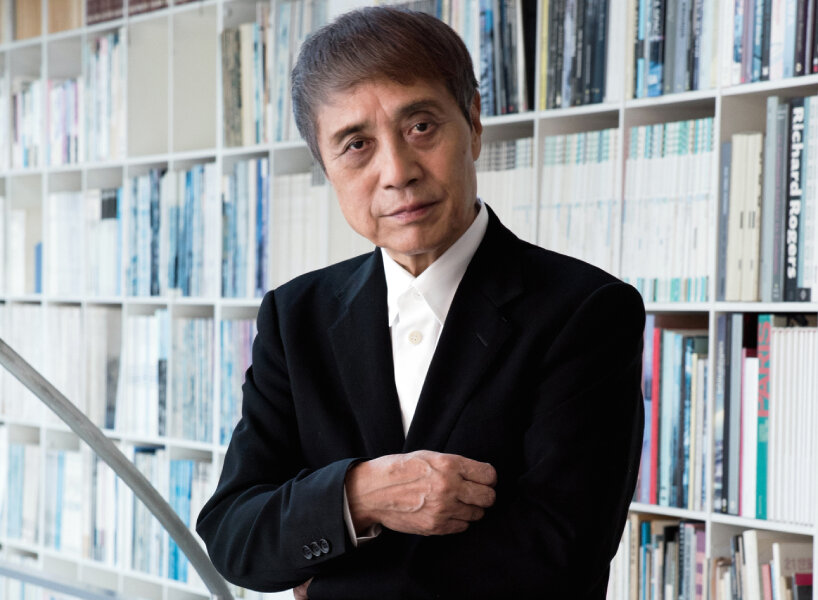 images courtesy of Tadao Ando Architect & Associates | Kinji Kanno's photo
DB: Visible forms and invisible space are powerful elements in your projects. Is it something that is easily perceived in the disturbing layers of complexity?
TA: For me, architecture is both abstract and representative. Adherence to fundamental geometry and labyrinthine articulation is how I strive for ideal architectural expression.
DB: Matter (walls) meets immaterial (light), openness and closure. Do you perceive them as strong contrasts or do they gradually blend into your work? Can you illustrate examples for our readers?
TA: They both inform a space in architecture. Light gives existence to objects and connects space and form. The Pantheon in Rome is made up of a dome 43 meters in diameter on top of a cylinder of the same size. A light invites itself through the oculus of 8 meters. As the interior structure is illuminated, an architectural space manifests. Such a vision of space does not exist in nature. It is this power of architecture that moves me.
DB: The past and the present are in constant dialogue. You once said that there is no new without the old. Please elaborate on the impossibility of "creation from nothing".
TA: In every project, there is always a client and a site. Each site has its unique climate and cultural context. Architecture cannot come from a vacuum because it is informed by and results from what surrounds it.
DB: Are there essential differences between new construction and renovation in terms of attitude towards each type of work?
TA: No. The work must take the context into account, whether it is a new construction or a renovation. Although renovation may be more difficult, existing buildings are part of the site context in the design.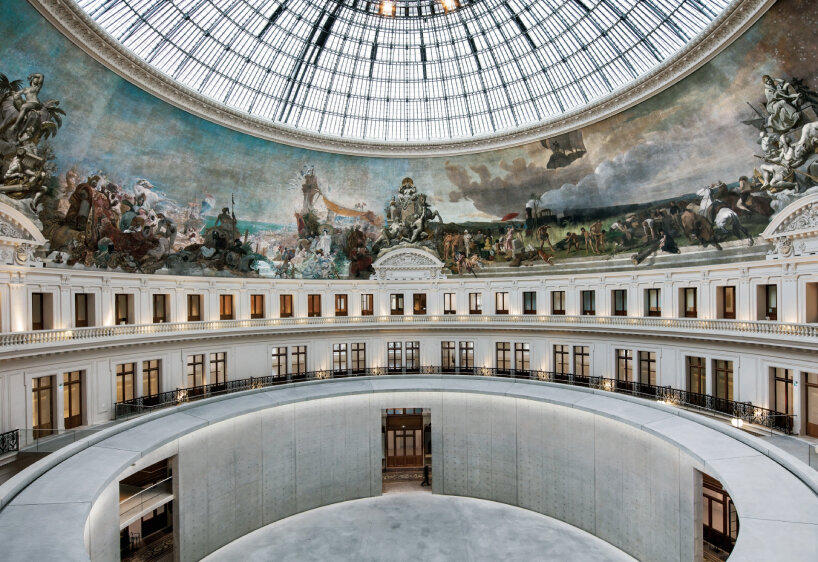 image courtesy of Bourse de Commerce – Pinault Collection, © Tadao Ando Architect & Associates, NeM / Niney and Marca Architectes, Agence Pierre – Antoine Gatier. | picture by Patrick Tourneboeuf
DB: In another interview, you said that architecture should be learned through physical concepts and senses, and that it is extremely important to experience the architectural legacy left by our predecessors. What's left on your list of must-see experiences?
TA: I would like to see the Pantheon in Rome and the Parthenon in Athens again.
DB: Please name a few buildings that should be on the "travel list" of young and up-and-coming architects, but also established architects.
TA: Our Lady of the Top, Pantheon.
DB: How do you approach the transformation of your buildings (moving in and perhaps modifying some formal and functional aspects)?
TA: I have had the good fortune to work with several of my clients on the extension and renovation of the houses I have designed. The Koshino House in Hyogo underwent multiple constructions, adding a gallery, renovating the living space, and eventually becoming a gallery. Even my studio is the result of several extensions that started with the first house I designed. As the resident changes and matures, the architecture must also grow and adapt.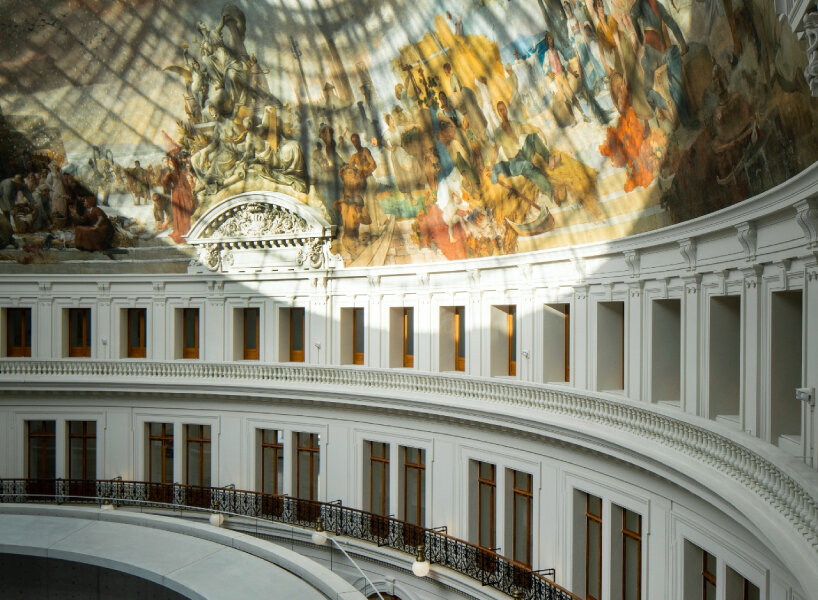 image courtesy of Bourse de Commerce – Pinault Collection, © Tadao Ando Architect & Associates, NeM / Niney and Marca Architectes, Agence Pierre – Antoine Gatier. | picture by Yuji ONO